Going through the hustle and bustle at the airport can work up quite an appetite. The mayhem begins the moment you unload the car, stand in the check-in
line, ace the security clearance, and race to the finish line of your departing gate. But some where along the way, your stomach begins to growl and
tumble as if it was Audrey from Little Shop of Horrors screaming, "Feed me!" With so many fast food options, it's easy to get sucked into what's conveniently
unhealthy versus what will be good for you.
As travelers filter through where they choose to dine, healthier options are limited. But fret not! We have complied a list of 4 restaurants which offer
healthy alternatives to put your guilty conscious at ease.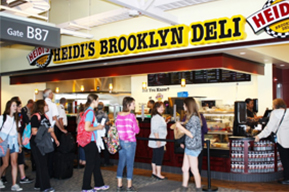 This family-owned restaurant opened its doors
in the early 1990's when Heidi Bendiksen Naples and her husband, Steve Naples, moved to Denver from Brooklyn. Since 1999, they are opened 18 national
franchised locations. Every restaurant bakes 8 different flavors of bread, made from scratch. That's right; no additives or preservatives here! The
best part about their menu is the variety of options. The menu items consists of sandwiches, salads, homemade bagels, soups, wraps, and fruit smoothies.
They also offer gluten free bread, vegan, and vegetarian options as well.
---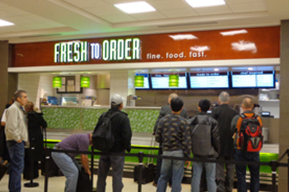 South African native, Pierre Panos, got his
taste of the restaurant business when he was 7 years old working in the kitchen of a family owned restaurant. Pierre later pursued a Masters degree
in Accounting and Taxation, but realized his true passion was in the food industry. After selling his venture, Stoney River Legendary Steaks, to O'Charley's,
he came up with the concept of Fresh to Order with his executive chef, Jesse Gideon. Pierre was intentional about providing high quality and fresh
products from scratch at affordable price points. All cooks are properly trained on their culinary technique, knowledge of ingredients, flavors, and
spices. He also wanted to ensure the ambiance would create a fine dining experience for the customer.
---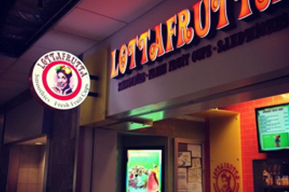 Myrna Perez, owner of Lotta Frutta, remembers
growing up in her hometown in McAllen Texas with local fruterias. When she made her move to Atlanta, she discovered that the specialized fruit vendors
were scarce. After asking around, she found one called Plaza Fiesta. Myrna later left her marketing career at Univision to pursue her fruity passion.
Lotta Frutta is known for the energetic colors of the establishment and a variety of flavor profiles for the fruit cups. Each of the 5 fruit cup flavors
are inspired from a different Latin American country. Lotta Frutta's menu also consists of domestic and international beverages, Latin inspired breakfast
(desayuno) and lunch (almuerzo), sweets, snacks, and Mexican hot chocolate.
---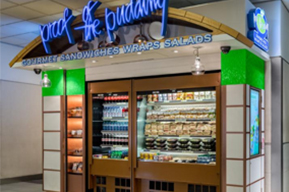 Proof of the Pudding is a catering company
that serves at social and business events. However, at the Hartsfield-Jackson Airport, Proof of the Pudding offers fresh pre-packaged gourmet food
options which includes sandwiches, salads, wraps, and desserts. The products are all natural, low in sodium as well as low fat.
Now that we created this list, travelers can begin to consciously make healthier dining choice as they are conveniently passing through the airport. Visit
our brands on their websites to get a full listing of the menu options available.